Date/Time
Date(s) - 15/02/2023
5:30 pm - 8:00 pm
Location
Holiday Inn Warwick Farm, an IHG Hotel
Join The Liverpool Chamber for this networking event with the new General Manager at Liverpool Council, Mr. John Ajaka
About the event
The Liverpool Chamber of Commerce & Industry is pleased to host another wonderful opportunity to meet the members of our local business community.
The Beautiful Holiday Inn Warwick Farm will be the frame where you will be able to discuss opportunities and challenges of the Liverpool area.
About the Guest Speaker
For this Business After 5 event the Liverpool Chamber has the pleasure and the honor to host the recently appointed General Manager at Liverpool council, Mr. John Ajaka.
Mr Ajaka is a former Liberal minister for ageing, disability, and multiculturalism. He was also the President of the New South Wales Legislative Council until March 2021.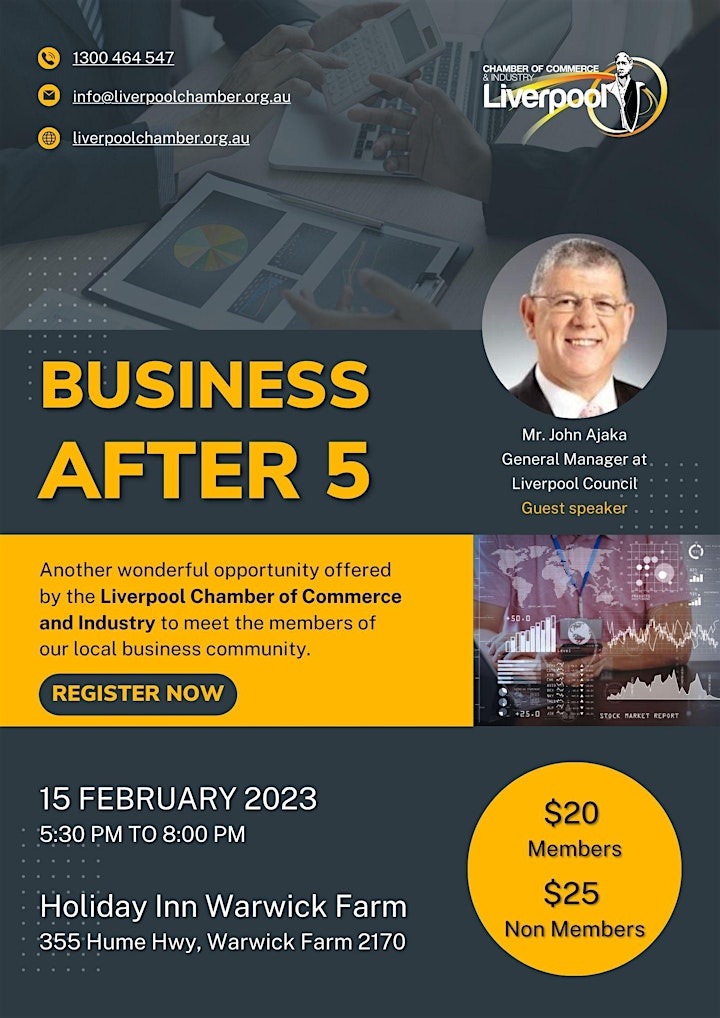 About the Liverpool Chamber
The Liverpool Chamber of Commerce & Industry is an organisation of business and professional leaders, whose purpose is advancing the economic, industrial, professional and civic welfare of the Liverpool Local Government Area and surrounds.
The Chamber's Business After 5 events are a great opportunity to promote and network with fellow local businesses while picking up tips and advice to help advance your business.
The Liverpool Chamber has a long and rich history. Recently we opened a 50 year time capsule from Council and the local Museum with letters addressed to the Liverpool Chamber. Since 2003, the Chamber has gone from strength to strength and with the support of the Liverpool Council, the Business Community and our major sponsors the future is bright in Liverpool LGA.
The Chamber facilitates opportunities for members to grow their business and build a strong network to leverage its relationships for higher economic gains. Collectively we seek to take opportunities with the new Western Sydney International Airport, the Aerotropolis, and the innovation on the horizon. We are building close ties to academia and seek to support our members in any way we can.
Membership is open to all, and we promote a multicultural, diverse and inclusive culture. We welcome non-members to join us and consider making Liverpool Chamber your Chamber!
Contact us at info@liverpoolchamber.org.au to enquire about membership, sponsorships, partnerships, or volunteering opportunities.
We are a not-for-profit organisation established in 2003.
*By obtaining a ticket for this event, you give us consent to subscribe you to our mailing list, where you can receive information about Liverpool Chamber news and events. You may unsubscribe from this list at any time by clicking the Unsubscribe link at the bottom of our emails.