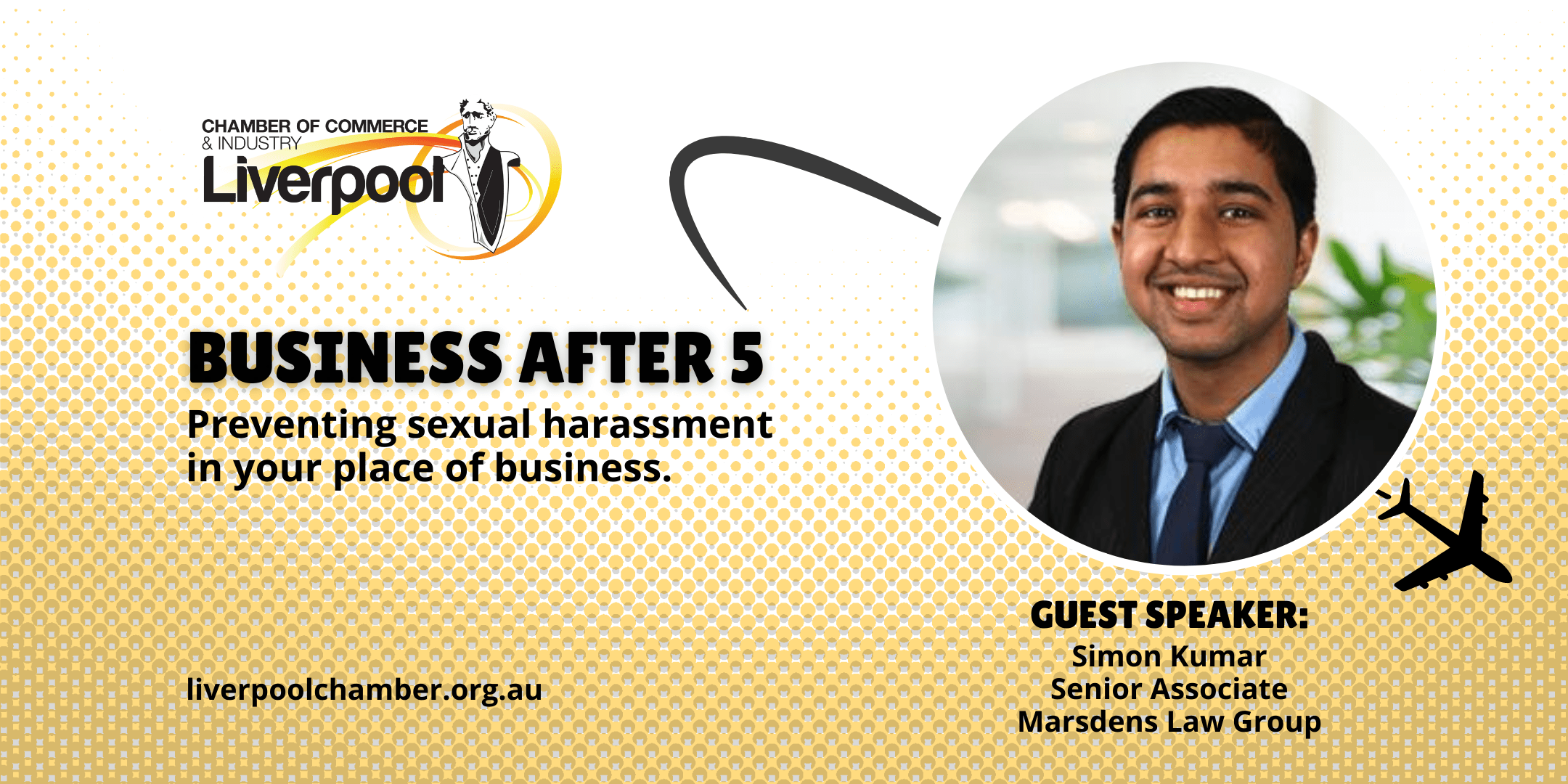 Liverpool Chamber of Commerce discusses how you can prevent sexual harassment in your place of business.
The Liverpool Chamber of Commerce Business After 5 Events are a great opportunity to promote and raise the profile of your business while networking and connecting with fellow business owners in the community.
August 2022 Topic
Preventing sexual harassment in your place of business.
Guest Speaker
Simon Kumar – Senior Associate – Marsdens Law Group
Simon Kumar joined Marsdens in 2015 and is a Senior Associate practicing in Employment Law at our Campbelltown office.
He has completed a Bachelor of Laws with Honours, and a Bachelor of Business and Commerce majoring in Human Resource Management and Industrial Relations.
Simon is an ambitious and dedicated lawyer with experience in providing advice and representation to employers and employees across a range of Employment Law issues. He also acts in a broad range of workplace-related matters for Councils.
Simon's litigious matters are run mostly in the Fair Work Commission, the Industrial Relations Commission and the Federal Circuit Court.
For employees, Simon can assist if you have been unfairly treated or bullied at work, been underpaid or unfairly dismissed. Also, he can provide advice in negotiating employment contracts when commencing employment and representation when issues arise during or after employment.
For employers, Simon can draft employment contracts and policy documents, assist in workplace investigations, defend unfair dismissal claims, defend underpayment claims and advise on workplace entitlements and all employee issues.
For Councils, Simon can advise on government and public sector workplace issues.
He has a proven track record of providing accurate, practical and strategic legal advice, and a demonstrated ability to achieve successful outcomes for the clients that he represents. He is committed to advocating for a client's interests with a view to achieving justice and the best possible outcome for them.
In 2019, Simon was appointed General Delegate in the Law Society by the President of NSW Young Lawyers.
Outside of the office, Simon is an avid fan of the NRL, NBA and WWE.