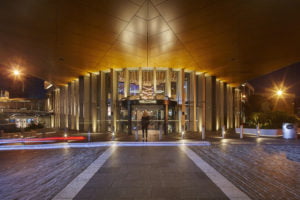 The jewel in the crown of Mounties Group, Mounties boasts one of the largest memberships of any club in NSW. Celebrating its 50th anniversary in 2018, the club's ambitious redevelopment plan continues to drive its purpose of creating a destination of choice for the community.
Located just five minutes from Liverpool in Sydney's south-west, Mounties offers members and their guests a choice of four restaurants, two cafes, 10 bars and an outdoor terrace – with more to come once renovations are complete.
In addition to the usual club activities of TAB, Keno, raffles and bingo, Mounties' entertainment offering includes live performers at both free and ticketed shows, DJs, comedians, children's performers and a regular program of school holiday activities.
A truly family-orientated club, Mounties offers parents and kids a range of services including Minis child minding, an amusement area called Funland, and two outdoor play areas.
With its foundations built on sport, Mounties is home to Ignite Health & Fitness, physiotherapy services, and 29 sports and social sub clubs ranging from netball to fishing, and swimming to lawn bowls which are open to all Members.
The world-class club offers Members and guests an endless array of services including Flamez Hair Dezign, its own travel agent, itravel, a Gift & Bottle Shop, and of course, a free door to door courtesy bus.
With a focus on connecting people with community, Mounties donates over $5 million every year for the provision of sports facilities and sponsorship of community groups and programs. Additionally, Mounties Group is a major contributor to the local community and charities, including the CareFlight rescue helicopter services and the Ted Noffs Foundation.
Restaurants, Cafes and service providers located within Mounties include:
Ignite Health & Fitness Centre
Fresh Café
Minis child minding
itravel (travel agent)
Flamez Hair Dezign
Terrace Bar & Café
Johnny Fong's (Chinese restaurant)
Bau Truong (Vietnamese restaurant)
Gift & Bottleshop
Emperor's Buffet
Classics Bistro
The Sports Bar
Funland